"Roads to Nowhere"
 Perhaps the hardest part about a trip blog is selecting the photos. There are so many to choose from and none can show or express the shear beauty of the Canyonlands, the San Rafael Swell or Utah in general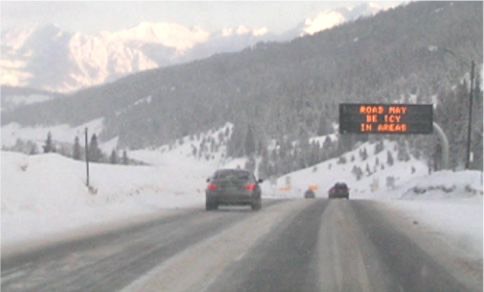 "ROADS MAY BE ICY IN AREAS" Well no s%@#t Sherlock!! The toughest part of the journey. Hoards of Subaru Outhouses blocking the highway with their snowboards on their roof-racks. I couldn't believe how many there were, even making semi trucks brake going uphill. Not as bad as the hoards of Harleys in the summer causing miles of tail backs but really annoying just the same.
The LJ didn't get much in the way of modifications except a new set of wheels and tires. I went with the new BFG M2 Mud Terrains mounted on 15"x8" Mickey Thompson aluminum wheels with bling rings. To add some off-road prowess to the deal I installed a set of Staun Internal Beadlocks. Cruising off-road at 10lbs makes a huge difference yet cruising on the street at 65 mph and having perfectly balanced rims and tires was very nice.
The trails we chose this spring mostly ended in dead ends, impassable blockages, rivers, mountains and one inbound Easter Jeep Safari trail coming right at us. I had the pleasure of wheeling with Dave C from Illinois, Dave S from Moab, Dieter  from Lichtenstein and Rolfe from Switzerland.
We started wheeling on the last official day of the Easter Jeep Safari. To see so many rigs in one place was amazing. The procession of Jeeps  by the hundred leaving town went on all day. Dave led me to several trails this first day, we did 7 Mile Rim, Wipe Out Hill and all of Gold Bar.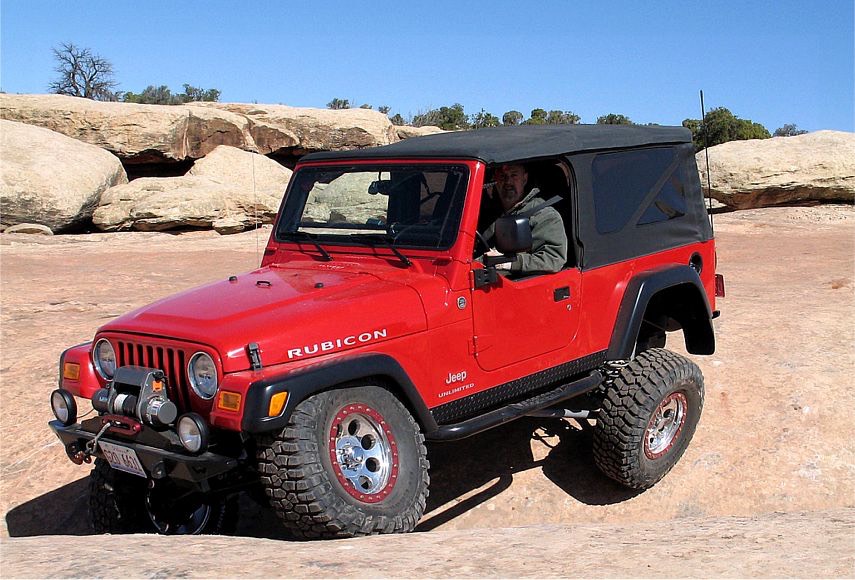 My second day was a day that I actually had looked forward to for a long time. I had read about Kane Creek Trail many times and was the only trail that I specifically requested that we do this Spring. We were joined by Dave's son Eric and his wife, his buddy and a few friends of Deiters'. It was a good group. Kane Creek is described as a trail that winds back and forth Kane Creek Canyon and crosses Kane Creek many times  - about 60-70 times in fact. It is about a 14 mile trail that ends with a tricky uphill very high shelf road.
We started early driving into the sun. The road leading into the canyon was amazing but speed, the early hour and the sun in our faces plus a tricky set of switch backs made photography difficult. I hope to go back and photograph this section when I not with a group.

Now a certain goof friend of mine, I won't mention his name but he wrote that I took the wrong line up the aforementioned ledge on the shelf road. Now I reckon he took the wrong line. I followed Dave S. who had just walked up the ledge with his CJ-5 with out a fuss. Dave C. on the other hand bumped all the way up and it wasn't pretty. So I followed the CJ-5, after all he had just led one of the Easter Jeep Safari groups up the same line. Trouble is my attempts were not pretty either. I wacked my head on the roll cage causing a fair amount of blood to be spilled. I also banged up my prop shaft but I did make it up the ledge. Dave C. led the rest of the group up the line that scraped along the edge of the shelf road which resulted in some high pucker factor moments for the drivers. Eric tried the right side and didn't make it. Eric's buddy also tried it and while reversing his throttle stuck and he nearly reversed off the edge of the road to an absolute certain death. Just about gave us all a heart attack.
We ended the day eating onion soup mix hamburgers at Dave S's house. It was a great way to end a good day of wheeling. I got back to the hotel late but still had to put in several hours of exhibition work.
Green River and the MK Tunnels, Temple Mountain, Cruising around the Swell, Little Wild Horse, Uranium mines,