Details.... Details.... Details….Details
Update - October 29th, 2001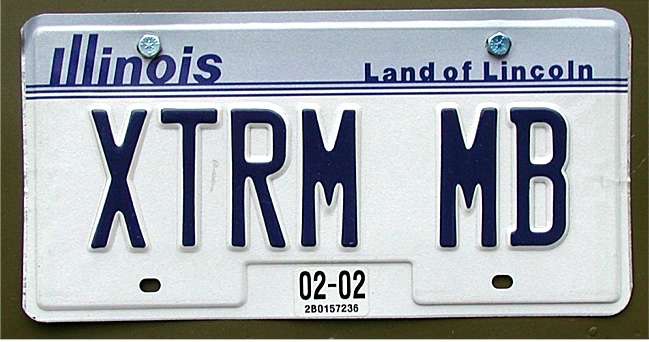 Illinois Tags - Maybe a bit extreme but what the heck - not much else was available - the Mad Brit plates went on the 330i.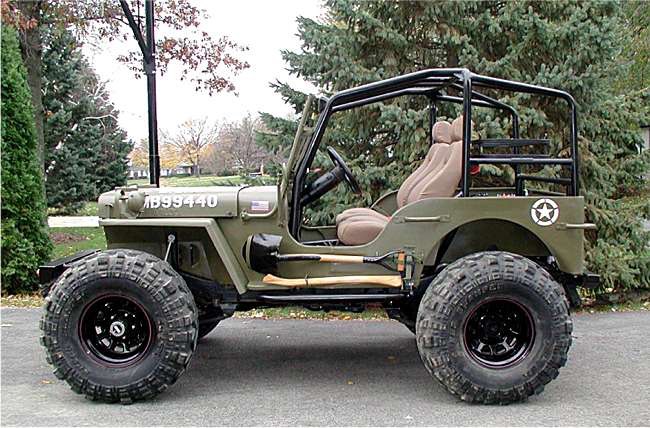 Side view  - You can see the fenderectamy in progress on the rear wheel wells. The tires are doing enough rubbing that I haven't needed to do any cutting yet.
Front view  - Looks wide but it is actually 2" narrower than my TJ with 12-1/2 inch wide BFGs. (It needs the winch installed.)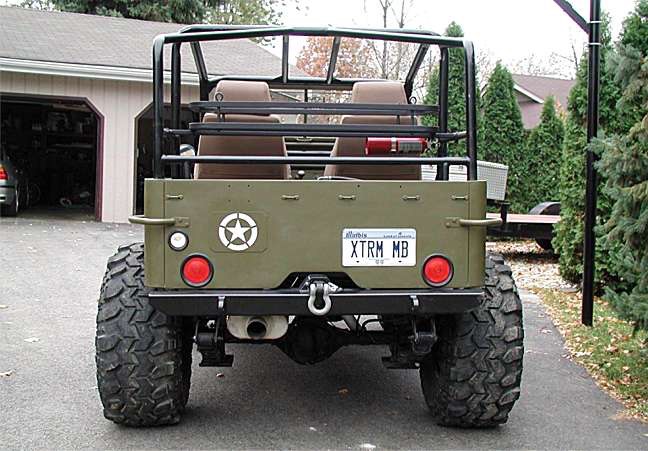 Rear view  - I have a spare but I need the welding maestro to get to work. I also don't care for an additional 100lb hanging off the back. I like this light weight Jeeping.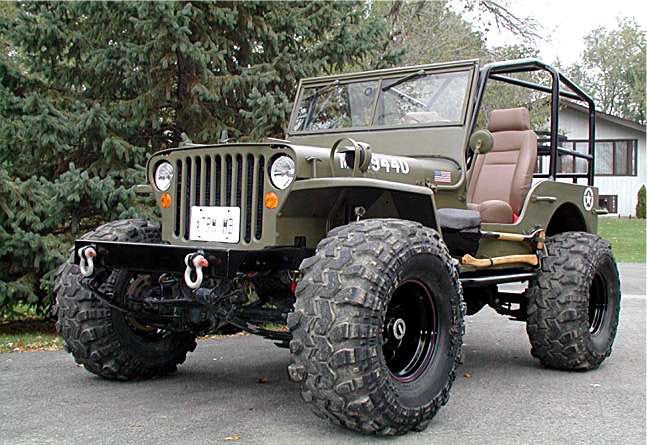 Front quarter view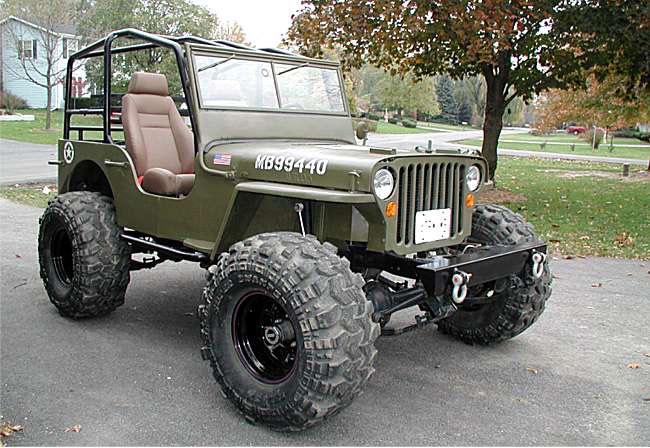 Front quarter view
Stencils - by Rick Larsen Stencils. They say they are reusable but I couldn't find a way. They were painted using Mopar flat white. Turned out pretty good. The stencils were excellent quality.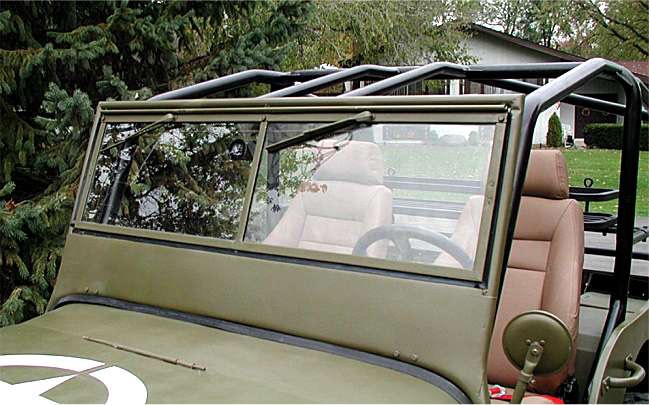 Windshield - Bent and twisted are the kindest words I had to say about this part. The rubber was impossible to insert and the glass even harder because the frame was bent. The windshield wipers are interesting. Hand crank or nothing. Nothing seems to work best. However they do help keep the Willys legal.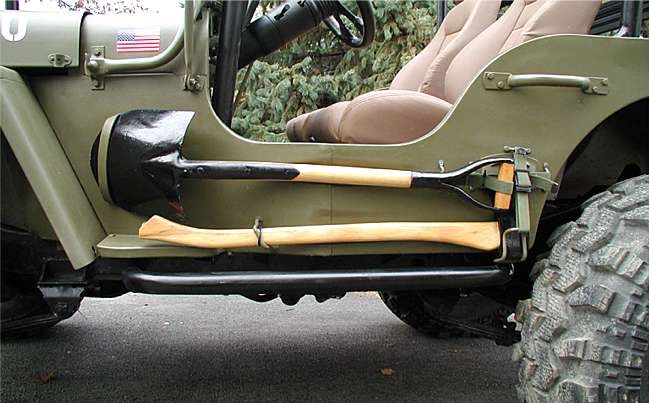 Axe and Shovel - Had to have these items. An MB just doesn't look right without them. It took a fair bit of hunting on the Internet boards to find them. They are available at swap meets for big bucks but I didn't need them that badly.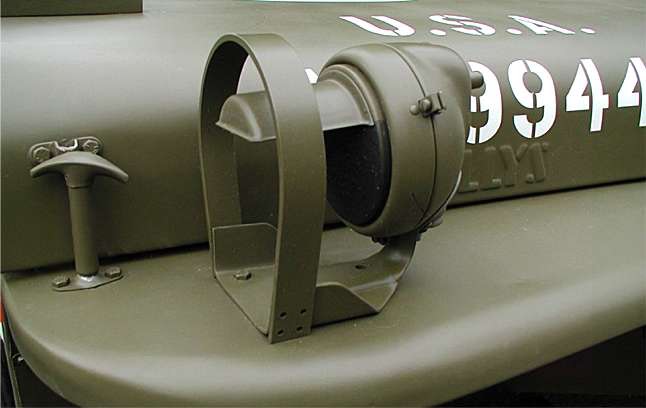 Convoy Light - another needed item and also expensive to buy if you can find them. My buddy the Tanker just happened to have one in his basement.
Autometer Gauges - only the best. Beautifully wired by Brad Blocker.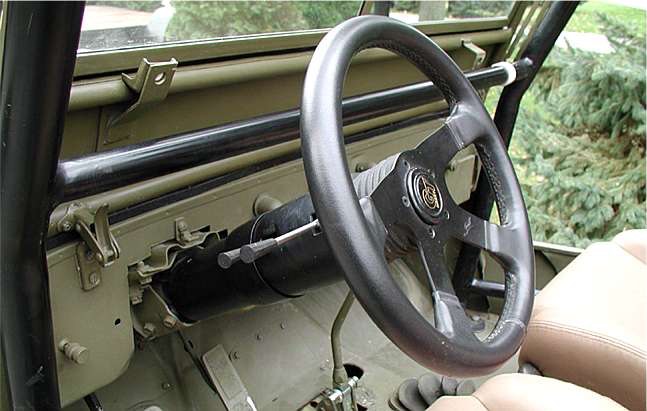 Grant wheel and Centech Steering Column - The dash plate really got trashed installing the tilt wheel. Sadly I don't actually use the tilt with the seats pushed back. I could have used a stock column, saved the money and saved the dash. But then I would not have turn signals, flashers (for what reason I don't know), a good horn and a nice steering wheel. If you know for a good metal/body man let me know. The dash needs some cosmetic work.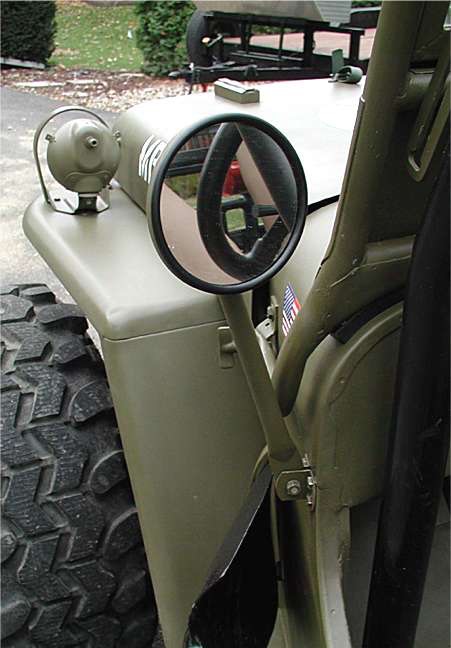 Rear view mirror - another needed MB item. It's actually quite functional. It was a cheap knock-off from J.C. Whitney.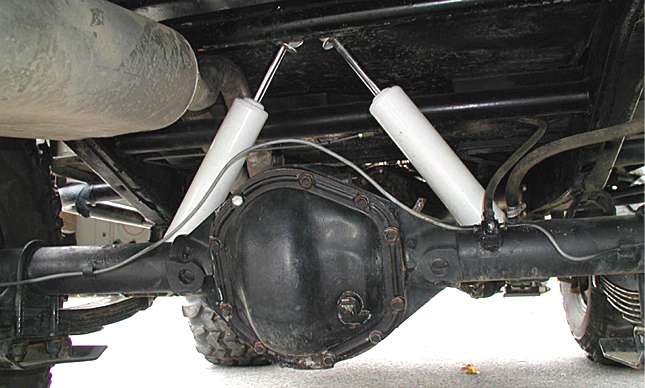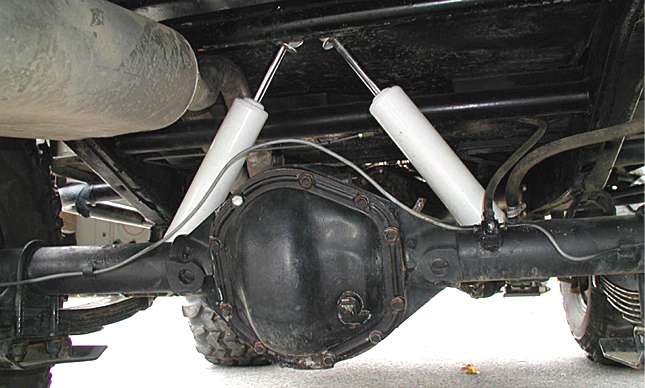 Rear shocks - Probably doesn't belong on this page. They are RS9013s. John Toumbs of John Toumbs Repair in Mt. Sterling designed and fabricated the mounts, angles and settings, etc.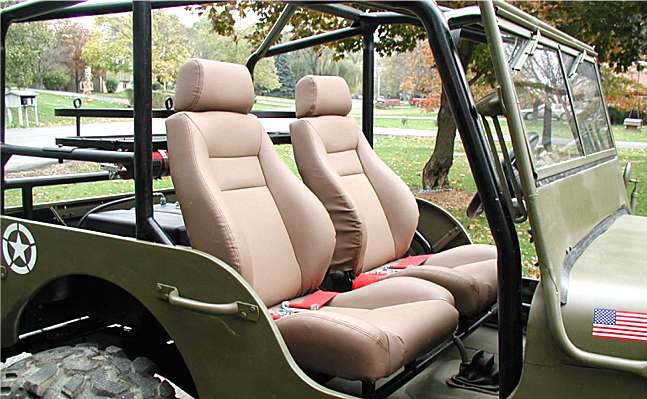 Steelhorse Super Seats - I keep hearing people knock Steelhorse but these seats are mighty comfortable and good looking.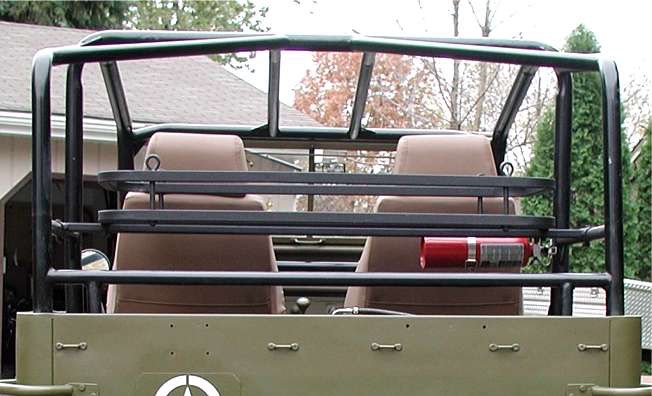 Trail Rack - I used an Olympic Trail rack for a TJ or YJ and threw away the support parts. Fits quite well. The welding and fabrication was performed by Schultz Custom Welding in Plainfield, Illinois.