"That's one big gap between motor and fan" declares Brad Blocker, local club member and master hot rod electrician.  Next thing you know the Willies has been totally rewired, and a new electric cooling fan installed. The wiring job is as good as you will find in any award winning hot rod. A basic hot rod wiring harness was selected from Centech. The harness was beautifully marked throughout. Very complete with a connector built in to connect to the Jeep CJ5 tilt column also supplied by Centech. 
Headlights came from JC Whitney and fit perfectly. The turn signals and tails lamps were from the local truck parts store. I couldn't believe that they fit so perfectly. The Willies is now wired so well it would pass any safety inspection. Horns, turn signals, flashers, low beam switch on the floor, even the shifter is wired so the vehicle cannot be started in gear. Brad says the gauges were a veritable pain the back to access. I t would have been a lot easier without seats and the cage.
Instruments are by Autometer. The Speedometer was replaced in favor of a tachometer. Other instruments include gas gauge, voltmeter, oil pressure gauge and water temperature gauge.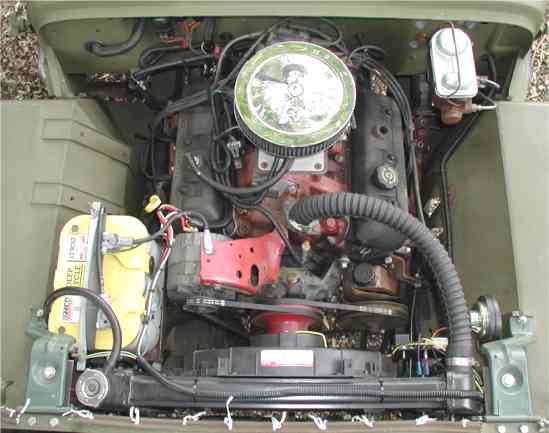 After the wiring, the Willies was returned to Schultz Custom Welding, the home of another club member and friend Larry Schultz. Larry is one of the finest welders you will ever meet. You will find him regularly out on the trails with portable welder in hand fixing someone's Jeep.
First item on the agenda was to remove the cage, reinforce and clean up the welds. It was decided to add  some cross braces and re-enforcing bars to the rear along with numerous gussets.
The seats are bolted to the cross bars that tie the frame together. The whole frame is then tied completely into the frame. A modified Olympic Brand cargo rack will also be bolted to the cage inside the tub behind the seats and above the fuel cell.